Wireless Seismic, Inc., the leading innovator of real-time and cable-free seismic data acquisition systems for the oil and gas industry, is introducing RT3–an ultra-high channel count, onshore, seismic recording system featuring Wireless Seismic's next-generation of radio technology–at this year's SEG Annual Conference and Exhibition in Booth 915.
RT3 addresses the growing market need to acquire much denser onshore seismic surveys. RT3 is designed to provide better quality, high-density subsurface images, while lowering capital and operating expenses through automation, lower equipment costs, and reduced weight. The smaller footprint and crew headcount will reduce cycle times and HSE exposure.
Unlike the ever-growing list of blind nodal systems coming to market, RT3 features the ability to manage the entire RT3 spread of hundreds of thousands of channels in real time. For example, the ability to put the spread to sleep, when needed to preserve battery life, requires only a single command from the control center–a critical capability that is impossible with the blind nodal systems. Also, RT3 saves the seismic contractor from the laborious tasks of manual data collection and the time-consuming chore of manual data transcription, all required of blind nodal systems, by transmitting all of the seismic data back to a central recording system in real time via high-performance radios.
RT3 is designed with a new, two-tier radio telemetry architecture that allows the seismic data to be transmitted to the central recorder, in real time, up to seven times faster than with traditional cabled systems. RT3 supports well over 250,000 cableless channels that can be laid out in the highly variable geometries that are common in today's high-density surveys.
A typical RT3 configuration consists of tens of thousands of ultra-lightweight and ultra-low power recording units (Motes) that communicate via radios to a grid of Ground Relay Units (GRUs) that transport the seismic data in real time to the fully interactive central recording system.  RT3 incorporates all of the relevant industry-proven RT2 features, including real-time data QC and Hybrid Radio Telemetry (where any Mote that becomes "stranded" from the radio network will temporarily become an autonomous node until radio connectivity is restored). The RT3 radio network is completely self-organizing, requiring minimal resources during deployment.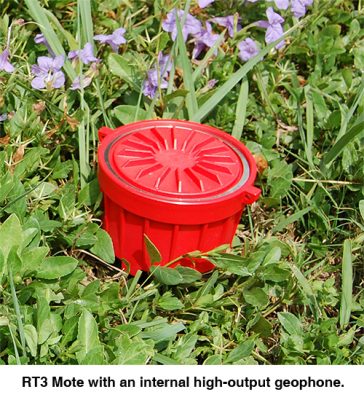 The RT3 Mote weighs less than 1kg, further reducing the weight differential between a cabled system and a cable-free system. The RT3 Mote is available in two models–one with an internal high-output geophone and the other with a standard connector for an external string of geophones.
The Ground Relay Unit (GRU) delivers significantly higher seismic data throughput than any cabled system on the market. The GRU is a full duplex transceiver which significantly reduces line latency and increases the number of receivers supported in a line segment. Sustained throughput is approximately 20+ Mbps with a "burst" rate of up to 55 Mbps. Legacycabled systems historically operate at 8 or 16 Mbps.
A newly designed central recording system included a spread manager that provides three independent views of the spread, including continuous seismic energy and ambient noise levels. A parameter management system simplifies operations, and the spread health dashboard provides the user with a quick and consolidated means of reviewing and fixing user-addressable system problems. The system automatically engages the required receivers for production, while leaving other parts of the spread in a monitored low-power state.
"RT3 is a game-changing technology that will enable the great majority of seismic contractors, around the world, that currently enjoy the benefits of real-time seismic systems, to finally decommission their old cabled systems and replace them with a real-time, cable-free system," states Mick Lambert, President and CEO of Wireless Seismic. "The significantly reduced weight and cost of RT3 will make ultra-high channel count projects much more cost effective, especially for the rapidly emerging requirement for high-density seismic surveys."