REAL-TIME APPLICATIONS
Wireless Seismic's recording systems enable contractors to efficiently tackle the most challenging seismic projects by delivering commercially compelling solutions for high-density and conventional surveys, passive monitoring projects, and hard-to-access areas, such as the recording units of the METIS R&D program.  Our systems are designed to eliminate problems associated with traditional cabled systems, while at the same time eradicating the barriers associated with cableless systems.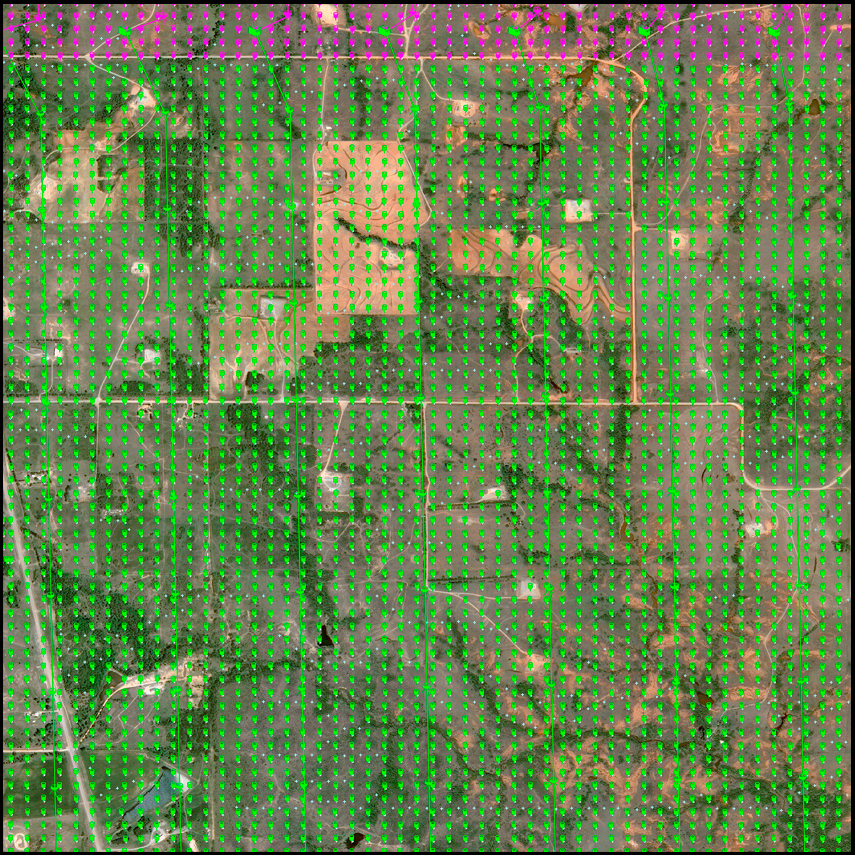 RT3, featuring Wireless Seismic's next-generation radio technology, addresses the growing market need to acquire much denser onshore seismic surveys—250,000+ Seismic Channels.
RT3 is designed to provide better quality, high-density subsurface images, while lowering capital and operating expenses through automation, lower equipment costs, and reduced weight. The smaller footprint and crew headcount reduces cycle times and HSE exposure, and its new two-tier radio telemetry architecture allows the seismic data to be transmitted to the central recorder, in real time, up to seven times faster than traditional cabled systems.
RT3 features the ability to manage the entire spread of hundreds of thousands of channels in real-time. For example, to preserve battery life, a single command from the control center will put the spread to sleep—a critical capability that is impossible with the blind nodal systems. RT3's real-time data transmission also saves the seismic contractor from the laborious tasks of manual data collection and the time-consuming chore of manual data transcription, all required of blind nodal systems.
RT3 supports well over 250,000 cableless channels that can be laid out in the highly variable geometries that are common in today's high-density surveys. A typical RT3 configuration consists of tens of thousands of ultra-lightweight and ultra-low power recording units (Motes) that communicate, via high-performance radios, to a grid of Ground Relay Units (GRUs) that, in turn, transmit the seismic data to the fully interactive central recording system. RT3 incorporates all of the advanced industry-proven features of RT2, including real-time data QC and Hybrid Radio Telemetry. The RT3 radio network is completely self-organizing and automated, requiring minimal resources during initial deployment.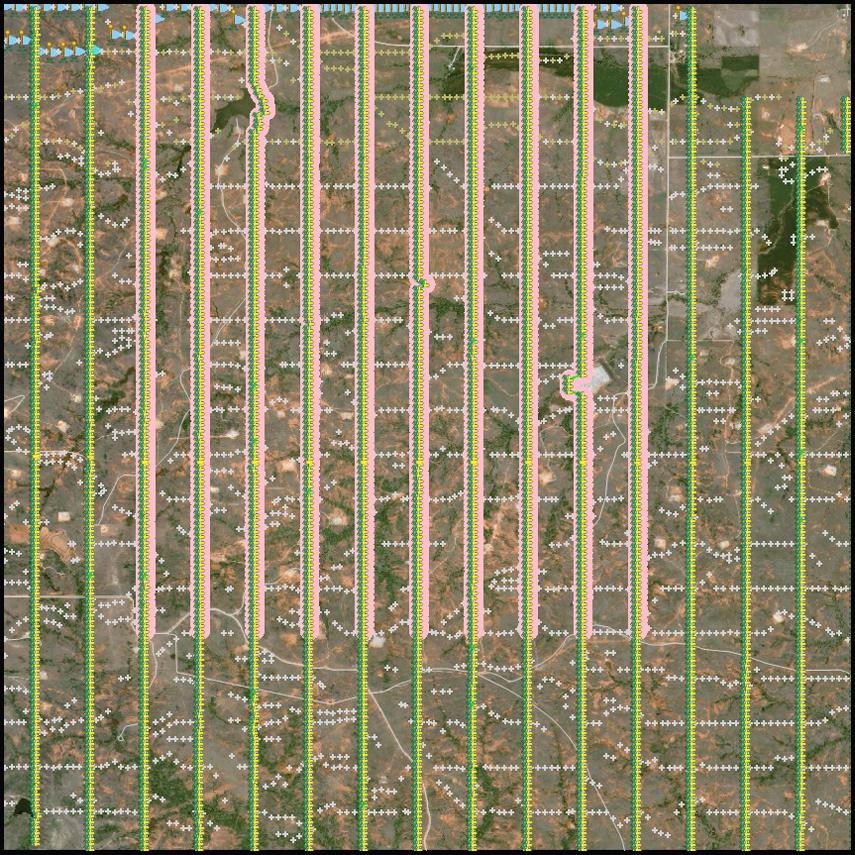 Wireless Seismic's RT2 was designed from the ground up to eliminate problems associated with traditional cabled systems, while at the same time eradicating the barriers associated with cable-less systems.
As survey costs skyrocket due to labor-intensive systems, crew logistics play an ever-increasing role in profitability. That is why the RT2 incorporates an integrated accelerometer and start-up self-tests that enable sub-minute, cable and handheld free unit deployment. Increasing the productivity of the most frequently performed tasks, such as layout and pickup, goes directly to your bottom line.
The self-organizing architecture of the RT2 mirrors the connectivity of cabled systems, but eliminates layout and data input errors. By enabling this technology, crew errors do not manifest themselves as station busts; they are identified immediately before being incorrectly assigned invalid line and station locations.
No-permit zones and large obstacles, like rivers and ravines, are no longer accompanied by perimeter layouts or dangerous cable crossings. The proprietary radio technology of the RT2 negotiates these impediments by auto-power leveling to suit the environment, with the added benefit that unit power consumption is minimized.
Incorporating a purpose-built telemetry protocol enables the RT2 to apply unique algorithms to work around unit problems while crewmen attend to the fault. Algorithms such as Skip Healing, Backstop, and the Hybrid Radio Telemetry keep the system operational during times of trouble.
A state-of-the-art user interface that scales from a laptop to a full-blown, high productivity system lets you choose your system footprint based on channel requirements.
Wireless Seismic has partnered with Seismic Source Company to integrate our systems to their SourceLinkTM software and Universal Encoder II (UEII) hardware platform, giving our users the capability of running complex Vibroseis techniques, such as Distance Separated Simultaneous Slip Sweep (DS4) or Independent Simultaneous Sweeps (ISS).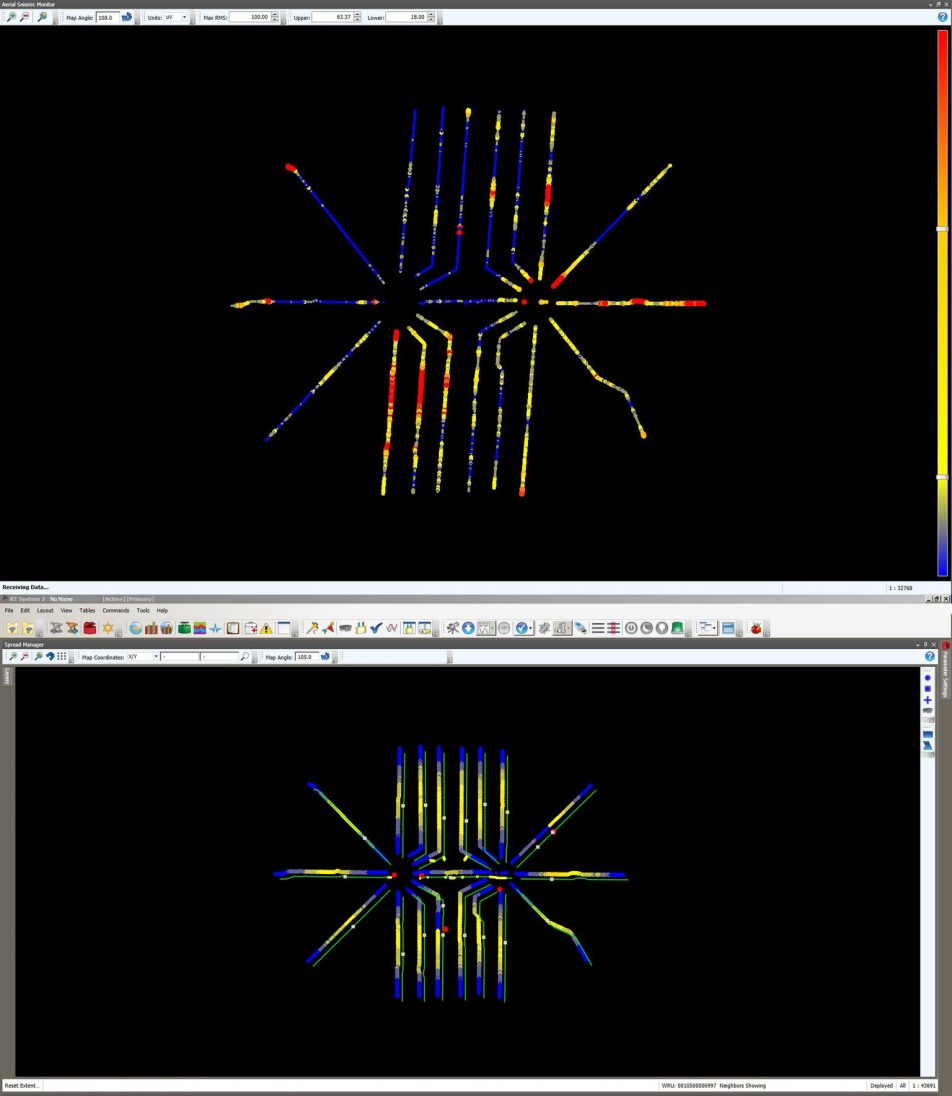 Ideal for use with Hydraulic Fracturing
LOGISTICALLY FLEXIBLE WITH REAL-TIME DATA DELIVERY – Wireless Seismic's technology is ideal for monitoring seismic energy released during hydraulic fracturing operations, providing the real-time data delivery of a cabled system with the logistical flexibility of wireless technology.  Fracturing environments are crowded and their geometry is irregular, making the wireless RT2 and RT3 the perfect system solutions for these operations.
Sensors can be placed as needed and lines can cross roads, rails, rivers, and ponds without having to compromise the survey or inhibit the passage of frack-related vehicles. Because the system is wireless, the arrays can be wheel spoke or grid shaped with arbitrary distances between adjacent lines.  Our systems eliminate the logistic problems of stringing cables in a congested environment, while removing the delays associated with conventional, autonomous recording systems.
IMMEDIATE FEEDBACK – Our systems conduct continuous recording without gaps in the data, enabling immediate processing and analysis by the engineers, geologists and geophysicists monitoring the fracturing results. The central recording system is a Windows®-based server that can be coupled to the Internet or other communications media for real-time delivery of seismic data to a remote analysis computer.
A COLLABORTIVE R&D PROGRAM
METIS, AN INTEGRATED GEOPHYSICAL ACQUISITION SYSTEM FOR QUALITY, REAL-TIME IMAGING OF COMPLEX, HARD-TO-ACCESS ONSHORE AREAS
FIELD-PROVEN ADAPTABILITY
ENVIRONMENTS
Heavy Traffic
Trains
Obstructions
Livestock
Thick Woods
Frigid Temperature
Heavy Snow
Hot & Dry
Tropical & Humid
TERRAINS
Deserts
Urban
Plains
Mountains
Forests
Cliffs
Farmlands
Deep Snow
Arctic Tundra
Jungle
OPERATIONS
Oil & Gas Exploration
Hydraulic Fracturing
Industrial Mineral
Engineering
Base Metal Exploration
Coal Gasification
Ground Water Contamination
Military Engineering Survey
Dam/Safety Engineering
GLOBALLY DEPLOYED